Market Board: Live demonstration day - robot technology in the building industry
---
Dato og tid
Torsdag d. 20. januar 2022 kl. 08:30 til 15:30
Tilmeldingsfrist
Fredag d. 8. januar 2021 kl. 12:00
Sted
Robot at Work and Techtown Odense, Billedskærervej 15, 5230 Odense M Robot at Work and Techtown Odense
Billedskærervej 15
5230 Odense M
Market Board: Live demonstration day - robot technology in the building industry
---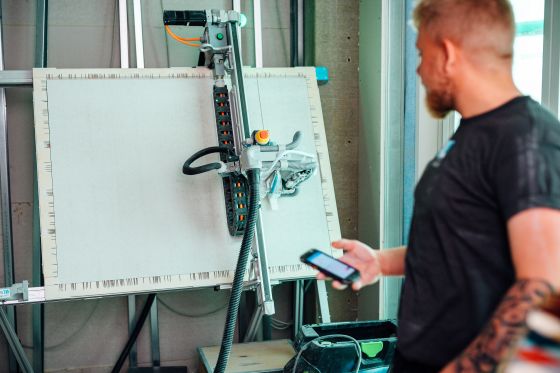 PLEASE NOTE THAT THE EVENT DATE HAS BEEN CHANGED TO 20 JANUARY 2022!

Market Board: "Live Demonstration day – robot technology in the Building Industry" is a matchmaking and knowledge event designed for the Danish robotic community and the building industry. The event aims to discover best uses cases and challenges of new robotic solutions in the industry. 
WE BUILD DENMARK and Odense Robotics are hosting the event "Market Board: Live demonstration day – robot technology in the building industry. 
The event is a chance for stakeholders within building and construction and the Danish robotic community to matchmake, learn about both industries, discover current and future uses of robotic solutions. 
Participants will also get to discuss how to solve some of the biggest challenges regarding workforce, new restrictions due to climate changes as well as how the building industry can gain added value by being robotised.  
What to expect 
Hands-on and case-based event (live demonstration of the newest robot technologies)
Learn about current and upcoming robotic technologies
Crack the code to the building industry and their challenges
Get new industry contacts and partners
Why should construction companies participate? 
Constructions companies will obtain concrete insights into current use cases of implementing robotic and tech solutions in construction, which today are already available.  
Get into dialog with robot-and tech companies in the forefront and be inspired. You will also play an important role in the development by giving the robot community insights into your business and the challenges you face. 
Why should robotic companies participate? 
Robotic companies will have the opportunity to demonstrate their technology and acquire insights on the challenges of the building and construction industry. 
The event also offers an oppurtunity to connect with stakeholders within the building industry and crack the code to understanding the value chain of a fragmented industry. 
About the event  
All robotic-/ tech companies and companies in the construction industry can become a part of the market board event
The event will gather a list of every company participating for matchmaking
The event will feature a small exhibition of robotic solutions – as well as a short description, which can be used when preparing for matchmaking.
Want to display a robotic solution – contact us 
If you want to display a robotic solution at our event – please contact: 
Mads Stubgaard-Schmidt, Project Manager, Odense Robotics +45 92 82 42 90 or mss@odenserobotics.dk


Sign-up 
Price: free, registration necessary – limited spaces  
No show fee: DKK 500,- 

Time and place 
20 January 2022, 8:30-15:30
Robot at Work and Techtown Odense
Billedskærervej 15, 5230 Odense 

More info 
For more info – please contact: 
Odense Robotics and WE BUILD DENMARK are supported by the Danish Ministry of Higher Education and Science as well as the Danish Board of Business Development.