International Drone Show 2023
---
Date and time
Tuesday 29. August 2023 at 08:30 to 16:00
Registration Deadline
Monday 28. August 2023 at 10:00
Location
HCA Airport , Lufthavnvej 131, 5270 Odense N HCA Airport
Lufthavnvej 131
5270 Odense N
International Drone Show 2023
---
Get insights about UAVs and drone tech from leading experts from Denmark and abroad – visit International Drone Show 2023
See new drone technologies in action, network and hear talks from some of the biggest players in Europe's drone industry at the International Drone Show on 29 August 2023 at HCA Airport in Odense, Denmark.
The event is a unique meeting place for drone companies and end users from Denmark and abroad to discuss the latest drone innovations and explore new application potential.
The annual conference and expo event attracts hundreds of visitors to see live demos, visit the expo and gain new insights from researchers, developers and end users on key topics. Visitors can also choose to end the day with an informal networking dinner.
 Themes of the conference
Legislation and Cooperation
Security and Defence
Use Cases & New Technologies
Workshops on:
5G
Cyber Security
Research
More info to come.
At the International Drone Show, we have set up two stages to offer you a variety of options to choose from. This way, you can select and attend the presentations or performances that interest you the most.
The afternoon session will offer themed workshops. Don't miss out on this chance to engage with industry experts and other enthusiasts to expand your understanding of the latest developments in drone technology.
Stay tuned for more information on the specific topics and presenters.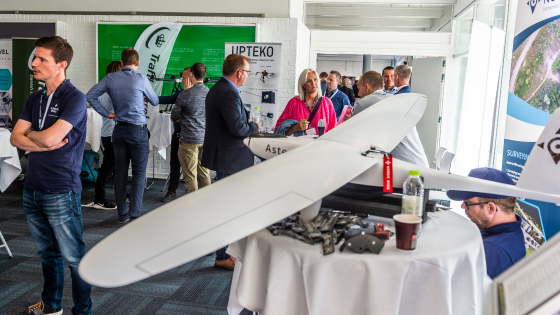 The event features: 
A full conference programme covering cases and tech trends  
Live flight demonstrations  
Expo area where companies and organisations showcase solutions and research
Lounge area for informal meetings
Networking opportunities including after-show dinner. 

Terms and conditions

Participation at the International Drone Show 2023 does not require membership of Odense Robotics, but a membership will secure you a discount on your attendee ticket
When signing up, you are required to inform us of your birth date for security purposes as the event takes place at an airport
When arriving to the event, you are required to show valid photo ID to enter (e.g. passport or driver's license)
The ticket price covers your access to IDS at HCA airport. Included in your ticket is also catering throughout the day.
The event entrance will be at Hans Christian Andersen Airports main terminal
By signing up to the event you give your permission to UAS Denmark Test Center and Odense Robotic to use pictures from the event in marketing activities.
Refunds only possible if the event is cancelled or date changed.
PRE-EVENT: GATEWAY TO EUROPE IN THE CITY OF ODENSE
On 28 August – the day before the International Drone Show 2023 – you will get the chance to network and share knowledge with key players in the Danish ecosystem and kick-start your collaboration with the Danish drone industry at Gateway to Europe, hosted in the City of Odense. Learn about the benefits of the Danish UAS ecosystem and the possibilities to establish a presence in Denmark and tap into the world's leading robotics ecosystem.
Sign up by selecting the "Pre-event: Gateway to Europe" ticket. 
Please note:
This event is for international organisations only and takes place the day before IDS2023 at Odense City Hall. Learn more about the event>>

Odense Robotics is supported by the Danish Board of Business Development.

Organizer Contact Information
Odense Robotics / UAS Denmark Test Center
Phone: +45 28121506
lrh@odenserobotics.dk
Organizer Contact Information
Odense Robotics / UAS Denmark Test Center
Phone: +45 28121506
lrh@odenserobotics.dk