Workshop: Future Drone Applications in Maritime and Offshore Industries
---
Dato og tid
Mandag d. 23. november 2020 kl. 09:45 til 11:45
Tilmeldingsfrist
Fredag d. 20. november 2020 kl. 14:00
Sted
Online meeting, -, - - Online meeting
-
- -
Workshop: Future Drone Applications in Maritime and Offshore Industries
---
Arrangementsbeskrivelse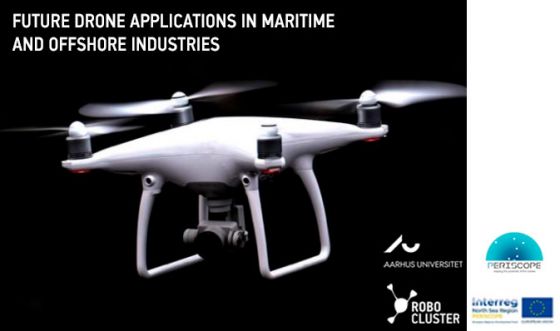 RoboCluster and Aarhus University invites you to participate in an event 23rd of November, where focus will on future Drone Applications in Maritime and Offshore Industries.
The tasks and missions that aerial drones can accomplish are accelerating. While safety concerns about flying over people and cities have led to zoning restrictions, the case has been different over water. Maritime and offshore applications for aerial drones have become the wild west. Consortium projects are needed to continue to push this evolution, and the seminar will work towards this end.
Partnering up makes a lot of sense in innovation
The program for the event is based on the methods developed in the EU-PERISCOPE Project, where matchmaking is done with potential partners around interest areas to streamline project applications.
Please indicate your two topic preferences at sign-up

Because the development of drones will be based on where they are stationed, the day will be organized to introduce and discuss the different sites of their application. At registration, participants should to indicate your areas of interest by choosing 2 topics from breakout session.
Practical information
Date: 23. november 2020 from 9.45-11.45
Place: Online
Registration deadline: 20. november at 14.00 (2 pm in the afternoon)
The event will be held as a hybrid event. The overall attendance (physical as well as online) is limited to 60 participants. The available places will be assigned on a first come first serve basis.
Links to participate via zoom will be distributed after the registration deadline.
Online participation
If you want to participate online, sign up on your right.
If you wish to know more, then please contact Matthew Jon Spaniol, phone:+45 50 12 64 44 or by e-mail:
matt@mgmt.au.dk
Covid19
The event is planned and it will be carried out in complete compliance with the COVID-19 regulations currently in force. In the event of further tightening of the current restrictions, participants will be informed in due time about changes.RoboCluster er støttet af Uddannelses- og Forskningsministeriet, Styrelsen for Institutioner og Uddannelsesstøtte og Region Syddanmark.
Kontaktinformationer til arrangør
RoboCluster / Aarhus University
Tlf: +45 50126444
matt@mgmt.au.dk
Kontaktinformationer til arrangør
RoboCluster / Aarhus University
Tlf: +45 50126444
matt@mgmt.au.dk